The days when TikTok was just an app for teenagers and oldies like me assumed we would never get involved are long gone. TikTok is here to stay, and like most corners of the internet, the book world has carved out its own niche there. Authors, bookstores, and book influencers all have accounts, and the publishing industry is increasingly taking notice and harnessing the power of the platform to sell books and spread enthusiasm for reading.
So how do you get started on BookTok?
The platform has a steeper learning curve than some, but it's accessible if you break it down into manageable steps.
1. Download the app and create an account
You can do this in several ways, including logging into Facebook, Twitter, or a Gmail address. (Best advice: choose a good username. I assumed I would never use mine, so I missed this crucial step.)
2. Edit your profile
Note that you won't be able to add this crucial link in your bio until you hit the magic 1,000 subscribers. (You can also create a business account to access it sooner, but I don't recommend it, as it comes with restrictions.)
3. Go to home button
Where TikTok differs a lot from if not all other social media platforms is that you don't need to follow anyone to get a stream of content. When you press the home button, you will be taken to what is called your FYP – your For You page. At first it will be a mess of content, much of which you probably won't be interested in – the algorithm makes an estimate of what you like based on what it can gather about you on the internet. But as you engage in watching, liking, and commenting, it will begin to refine what it serves you.
If you're serious about having a BookTok specifically, rather than just having a fun TikTok account that also has books (and there's nothing wrong with that!), you're going to want to avoid interacting. with everything that is not bookish. A quick way to train the algorithm is to find BookTokers to follow.
4. Follow BookTokers
Book Riot has some good lists of recommended people to follow; you can also search for your favorite local independent bookstore, bookish podcast, or even your bookstagrammer or booktuber – chances are they're there. From their accounts you can see who they are following and click around and see if there is anyone you are interested in. But there's no need to follow too many people — and TikTok will flag you as a spammer if you follow too many too quickly. What you are doing here is training the algorithm. At the top of the page you will see that you can switch between FYP and tracking. Tap "Follow" and hang out there, interacting with the book accounts you just followed. It won't take too long for the algorithm to start serving you mostly, if not exclusively, booking content on your For You page after that.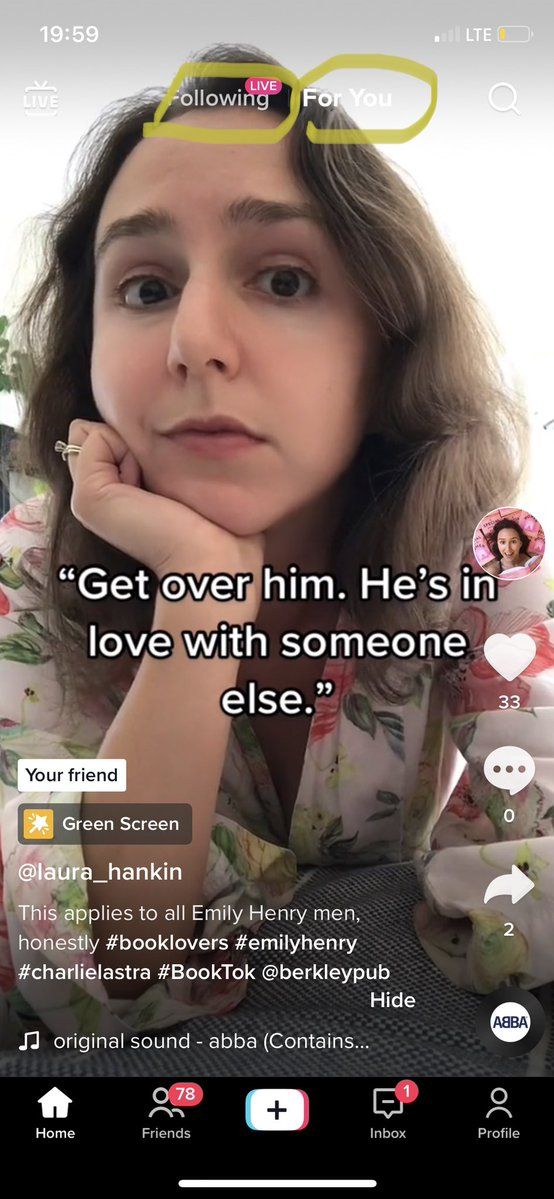 It will also give you an idea of ​​the trends and sounds people are using to post about the books. If you come across a sound you like and want to try using, tap the round icon at the very bottom of the screen, then "add to favourites". This way, when you add your own sound to a video, it will be one of those available to you. It's a great way to follow trends and get ideas on what to post.
5. Make your first video
There are plenty of tips and tricks to learn – more than I can cover in this article alone – and you'd do well to search YouTube for tutorials if you want to go deeper. But here are the basics:
Tap the + sign at the bottom of the screen.
Add sound at the top.
Press the big red button to record yourself talking, dancing, or lip-syncing (yes, that's still a thing).
Press "next".
Add a caption and a hashtag or two (opinions vary and trends come and go as to whether #booktok is best to use; it can't hurt to use something more targeted, like #romancereaders) .
Tap "select coverage" to choose the most flattering gel fame, because that's what will show up on your grid.
At the bottom of the screen there's also a way to add text (which is also a useful way to cover your face if, like me, you sometimes find none of the freeze frames to be so flattering , actually).
Click on "save", then, at the bottom, click on "publish".
Congratulation! You have just published your first BookTok video!
If you really want to do some serious work, especially in the very early stages, I recommend you take a look at Bookshop.org's new account. They joined in April, posting with a consistent aesthetic using mostly current trends three times a day every day until they hit the magic 1,000 followers ten days later.
Bookshop.org is, of course, a recognized brand, so I don't want to promise that you'll get the same result if you're a little-known author or bookish influencer. But if you have the time and the bandwidth, I highly recommend trying their technique – and maybe even giving yourself some time to learn until you do have that bandwidth along with a bank of drafts you can use to get started with a bang.
But above all, don't dwell on the numbers – BookTok is a great place to meet like-minded friends, expand your reading horizons and get great recommendations. Have fun with it!